November 2016 Pagosa Springs Real Estate Newsletter
Indian summer is what's happening. October has been beautiful if you like warm temperatures and no moisture. It works for me, but it's not what the hunters and skiers are looking for. It's not uncommon for Wolf Creek Ski Area to be open for Halloween; not this year. We still have two hunting seasons to go. The hunters want snow in the high country to move the animals down.
Even though I am enjoying this great weather, I'm ready for a change. The long-range forecast is calling for a milder than normal winter (La Niña?).
Now for what's happening around town. Most businesses, contractors, and Realtors continue to be busy. Sales tax revenues are way up! The August report was a record high up 10 percent.
The big news, unfortunately, is one of our historic landmark buildings burnt down a week ago. A grease fire at the Bear Creek Saloon is thought to be the cause of this massive fire. There were 16 businesses displaced. The Adobe Building was originally built back in 1902. What a tragic loss!
In other downtown news, I spoke to Greg Schulte, the town manager, regarding the 5th Street Bridge study. They have recently received information on the traffic study and will be putting this information in front of the town board and the public soon to determine if the bridge is necessary. Personally, from the information I have received, I'm in favor of it.
A couple of months ago I was appointed to the tourism committee. One of the issues that we just became aware of is currently we have a problem servicing bus groups wanting to come to town due to a lack of facilities capable of housing and feeding large groups. You would think we could handle these needs, but unfortunately we are not doing a good job in this arena. When I moved here in 1983 I managed the Oak Ridge (now the Quality Inn). Bus tours were my bread and butter. A new hotel in the core area with banquet facilities could help to fill this need.
Now for the latest real estate news. Last month we talked about the very high number of pending deals in town. In October, a bunch of those pending deals closed, and the result was a strong month. Home sales rose from +8% for the year to +11%. Overall sales rose from +8% to +10%. The even better news is we've still got 127 pending deals in the hopper, which is a historically high number, especially for this late in the year. So, I expect we'll have a strong couple of months to close out 2016.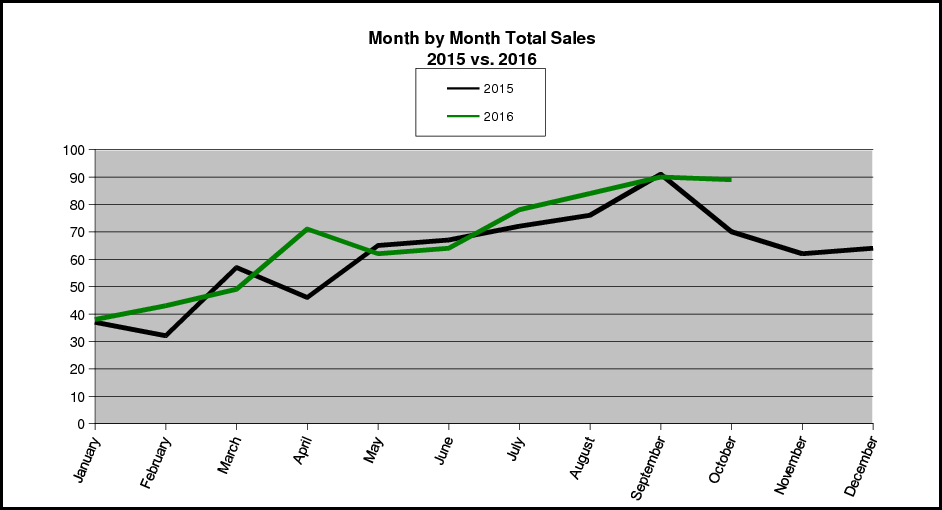 The local builders are still very optimistic, as a number of spec properties are going up around town. Building permits are up 22% with 104 permits issued this year compared to 85 by this time last year. Interest rates are currently running 3.75% for a 30-year fixed loan, and the Fed is making some noise about a potential rate increase this winter.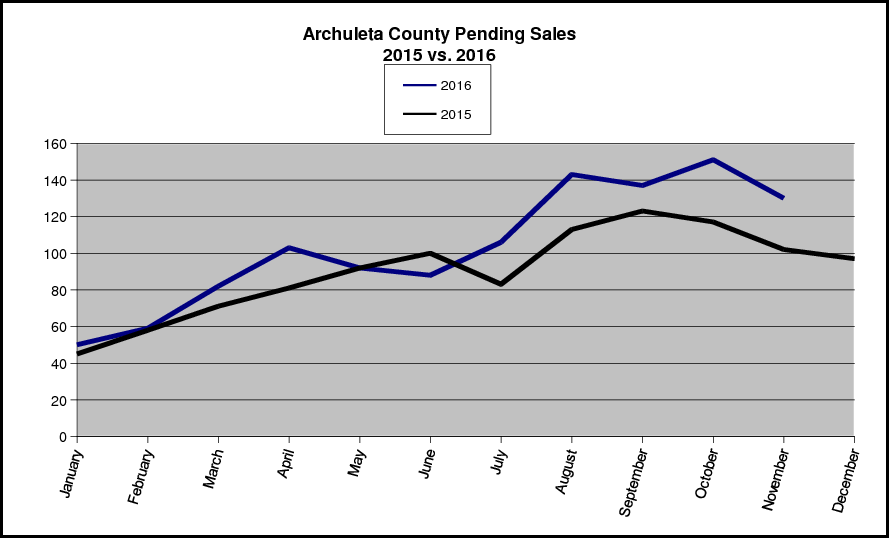 If you're looking to buy real estate and you want to get a deal, this is a great season to buy. A lot of sellers are getting worried about sitting on their properties through the winter. The snow will be flying soon, and it's tough to sell a vacant lot when it's covered in snow. For residential properties, sellers are starting to think about winter snow removal, heating bills, and the potential for frozen pipes in a vacant building. If you are looking for a bargain in Pagosa Springs, now is the time to step up to the plate! Most likely you'll pay an extra 5% to 10% if you wait until next spring.
Give me a call, and let's go find a deal!