December 2017 Pagosa Springs Real Estate Newsletter
The biggest news right now is the weather. No snow! Wolf Creek Ski Area received a foot of snow two weeks ago, but nothing down in town, and I don't see anything in the forecast through December 20. According to the weatherman, the long-range forecast is for our winter to be warmer and drier than normal. Personally, I'm loving it. Temperatures have been running 10 to 20 degrees above normal. If I ruled the world, Pagosa would have 75-degree weather year-round. We'd have a ton of snow starting Christmas Eve, and it would be gone shortly after New Year's! I want to have a lot of snow up on the mountain for the skiers and snowmobilers, and plenty of runoff in the spring for the rafters, and of course, plenty of water in the lakes and streams for the fishermen. But I just woke up from my dream, and the reality is our economy will suffer if we don't get snow before Christmas. Even though the ski area is open with man-made snow, a lot of the skiers will not come. I have lived here since 1983, have seen three green Christmases, and I don't want to see another one. A low-snow winter leads to a smoky summer with lots of forest fires, so hopefully the weather turns around soon!
The next topic of discussion is taxes. I just got back from Chicago a couple weeks ago from a national real estate conference where the real estate economists are not big fans of the new tax plan. One of the takeaways from this initial tax plan is to partially cut back on the tax deduction for mortgage interest and capital gains exclusion. The real estate economists feel this will slow down the real estate market, which will slow down the home building industry, which will slow down sales of appliances and furniture, and so on, therefore encouraging renting rather than buying. We have seen a large increase in home prices over the past few years, and the real estate economists believe these higher prices are sustainable in the long run. The lack of inventory is however causing a lot of buyers to sit on the sidelines, and surprisingly it is keeping sellers on the sidelines, too. Sellers are afraid if they put their current home on the market, they may not be able to find a suitable replacement. I'm working with several seniors right now who would like to downsize but are unable to because they cannot find the next home they would like to move into. It's kind of like musical chairs; the inventory is working against the system.
Now for what's happening in our local market – the big news is the overall number of sales is up 17% from this time last year with the median home value up 7%. The most dramatic statistic is the increase in sales on the higher-end homes. Houses between $750,000 and $1,000,000 are up 63% and homes over $1,000,000 are up a whopping 250%. Fourteen have sold so far this year compared to four at this time last year. The market of $300,000 and below is the softest; this is due to a lack of good inventory. Land sales continue to rebound and are up 24%, but prices have not recovered. Land prices are still way below the peak in 2008. Building permits continue to be strong. Permits are up 24% with 146 new homes built this year vs 111 this time last year. If we have a mild winter, these numbers will continue to grow. Normally, it's too late to be putting in a foundation, but I know of builders pouring concrete as we speak, hoping to get a head start on next year's building season. This is a good thing – we need the inventory!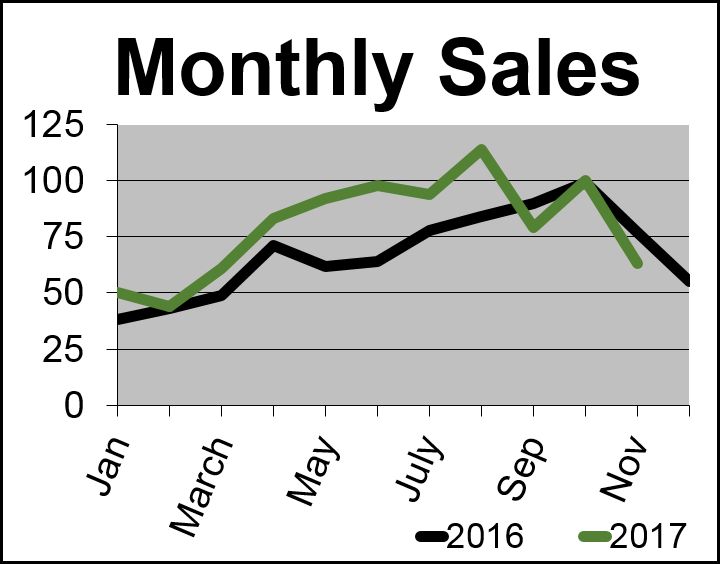 So long for now and happy holidays. Everybody think snow! Call your politicians, and thank a service member and their family for their sacrifice.
Merry Christmas!