January 2018 Pagosa Springs Real Estate Newsletter
It's beautiful here today. We just got a little snow last night – the key word being little. We got an inch where in a normal year it would have been a foot. This is the mildest winter I have seen since I moved here in 1983. This lack of snow is affecting local economy. Fewer skiers means fewer dollars circulating around town. Over the holidays, hotel occupancy and ski area numbers were down, but the town still felt busy. I think that most people who had planned to spend Christmas vacation here still came. They just spent less time on the slopes, and more time around town eating, drinking, and shopping. I look forward to seeing our sales tax revenue numbers for the holiday season.
The national economy looks strong. The stock market is way up. GDP is improving along with unemployment. The price of oil is way up, which helps our friends from Texas and Oklahoma. This, in turn, helps our local economy and our real estate market.
Let's talk real estate. Total sales were up 17% over the past year. Home sales were up 8%, condo sales were up 12%, land sales were way up 26%, and commercial sales were up 33%. Median prices were up across the board. Take a look at the charts I've compiled below. Some of the numbers go all the way back to 2004.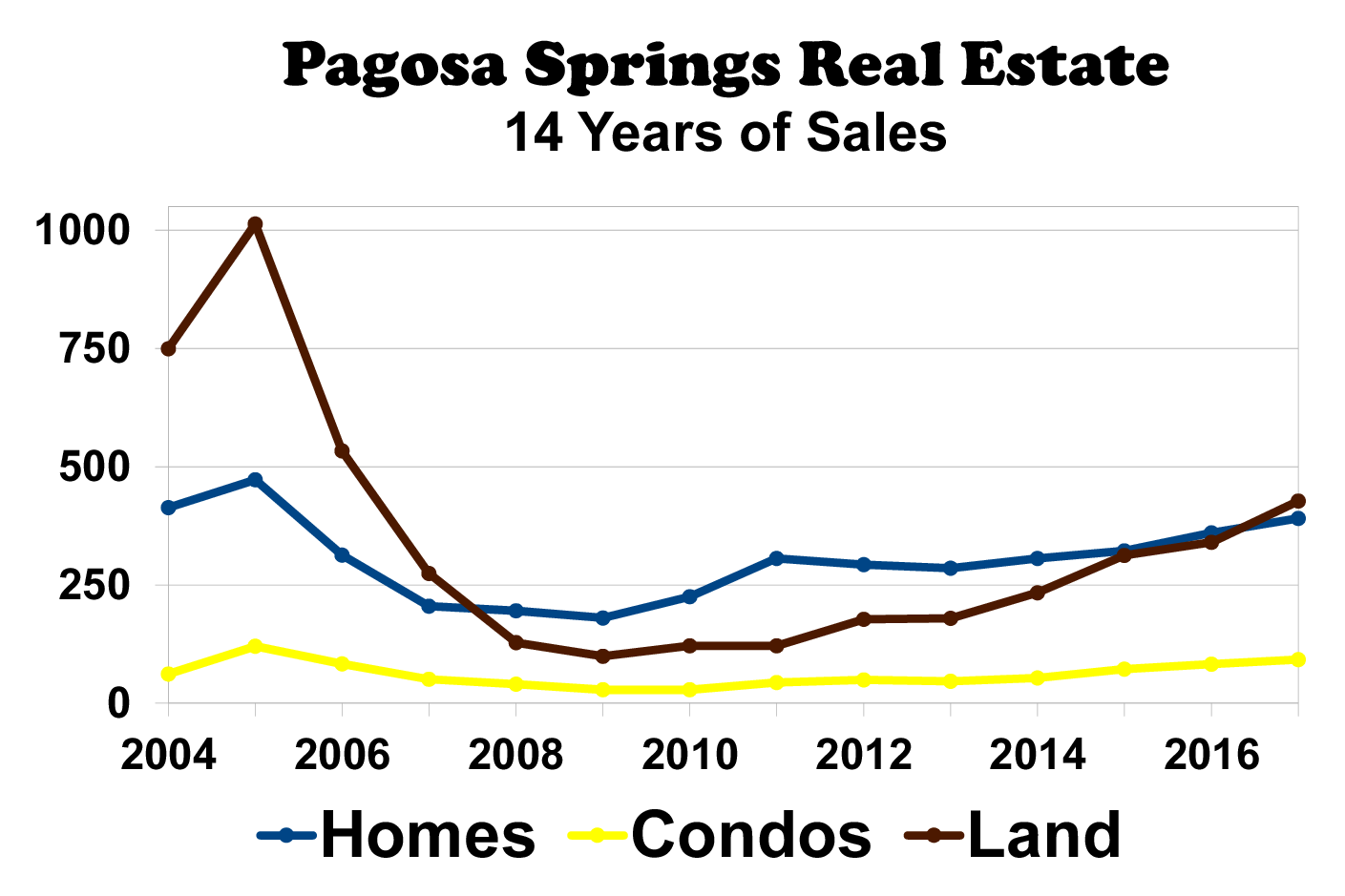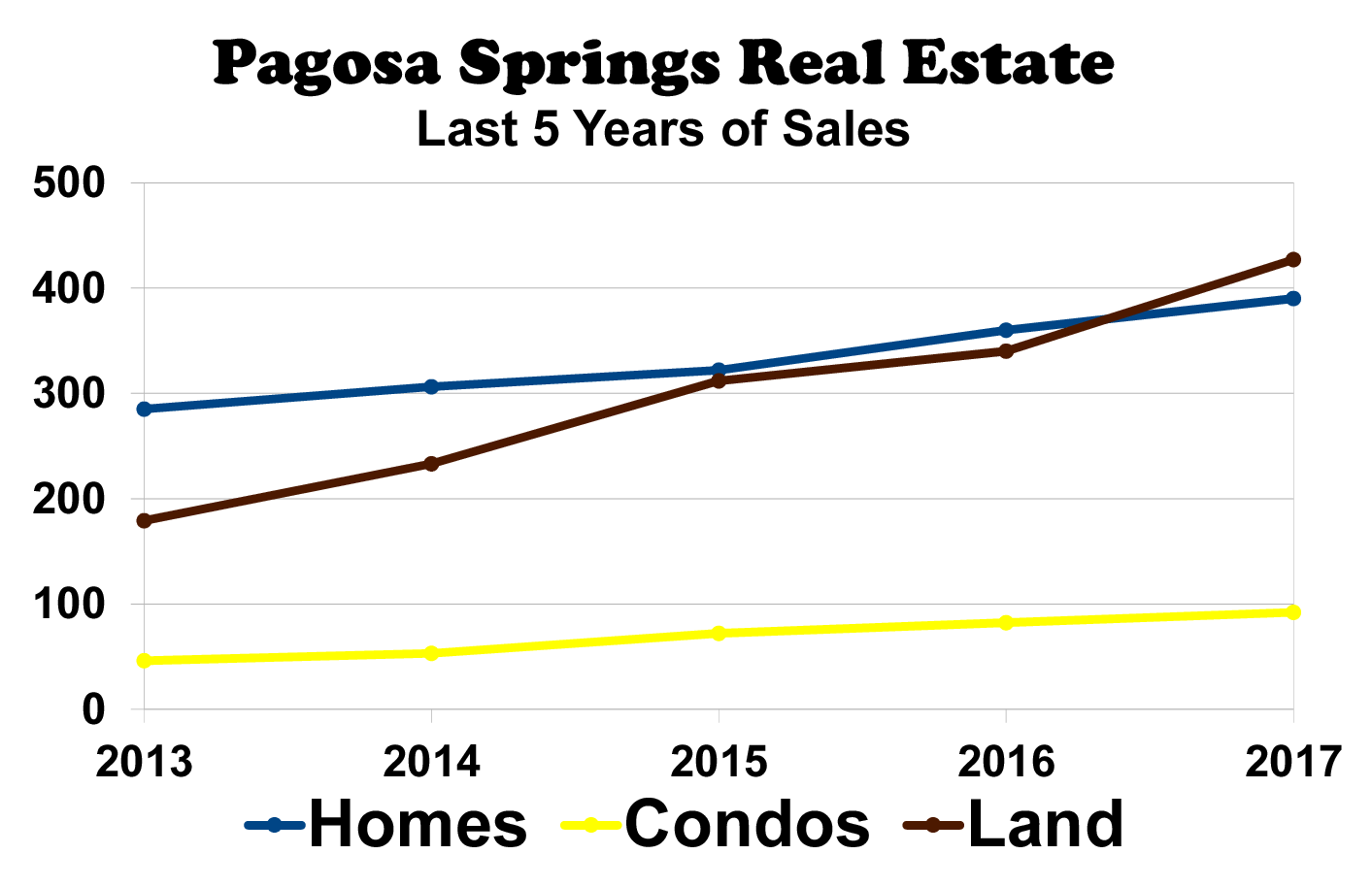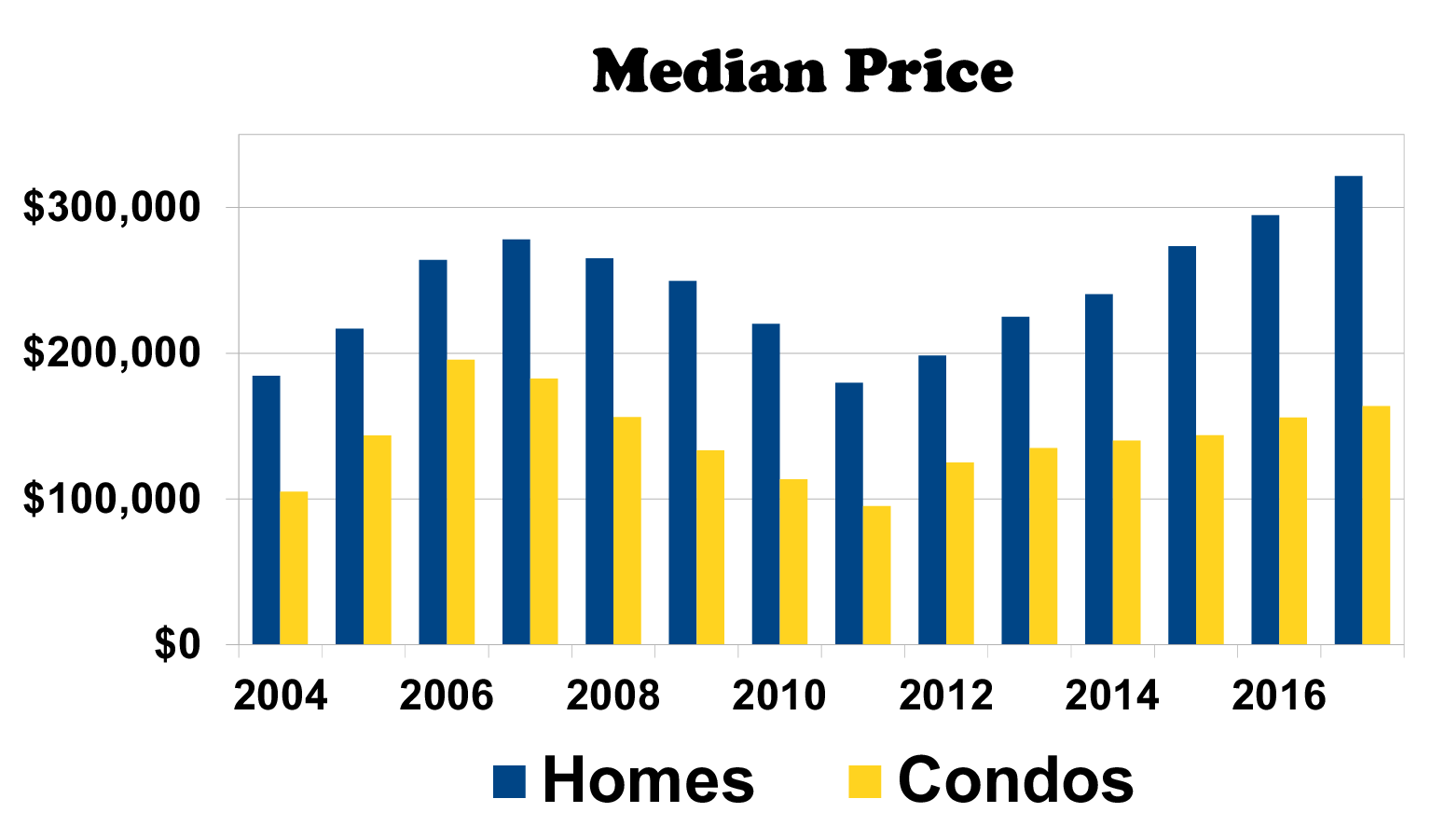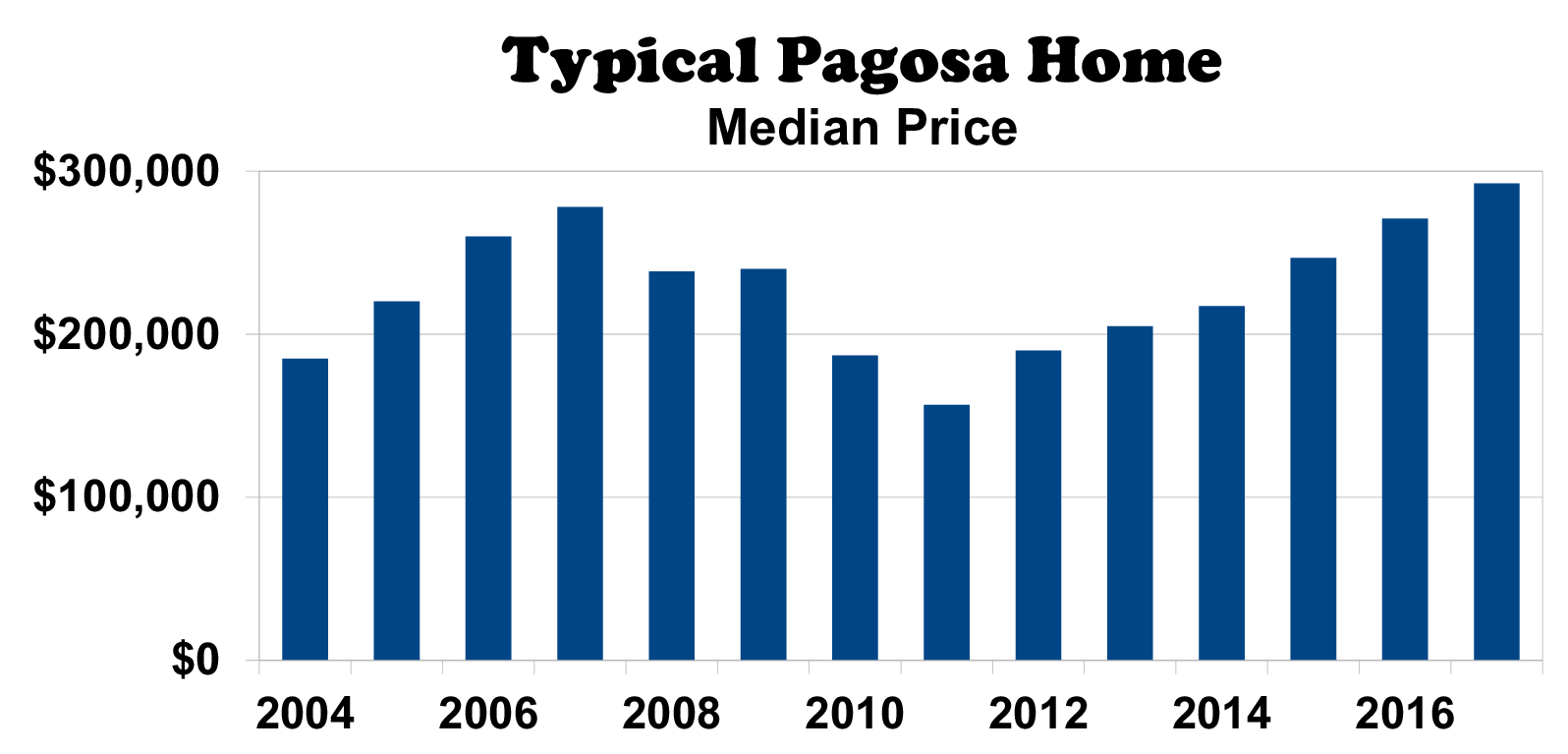 "Typical Pagosa Home" is defined as a stick built, 3 bedroom, 2 bathroom home with 2 car garage on under 1/2-acre in the Pagosa Lakes area.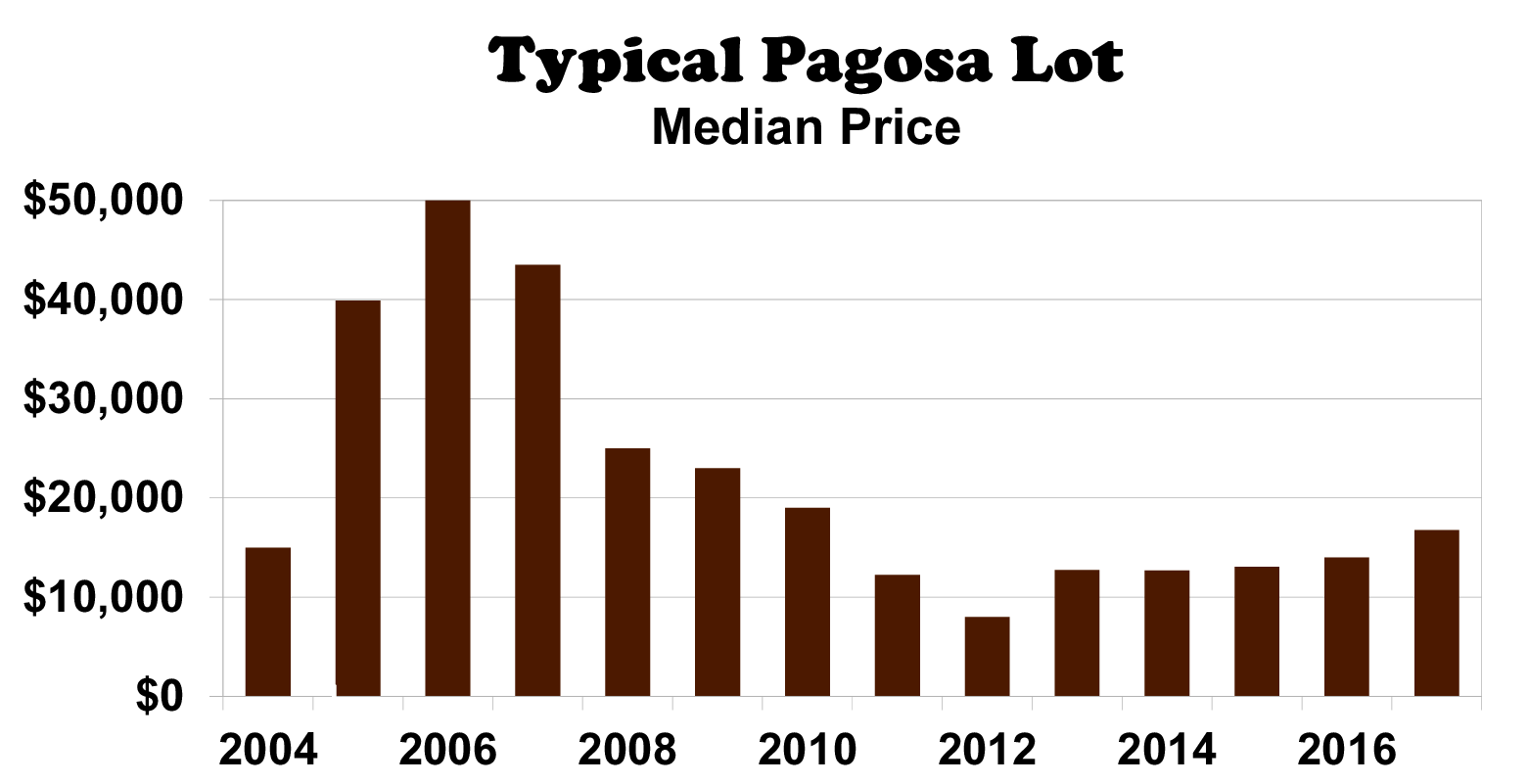 "Typical Pagosa Lot" is defined as vacant land under-1/2 acre in the Pagosa Lakes area.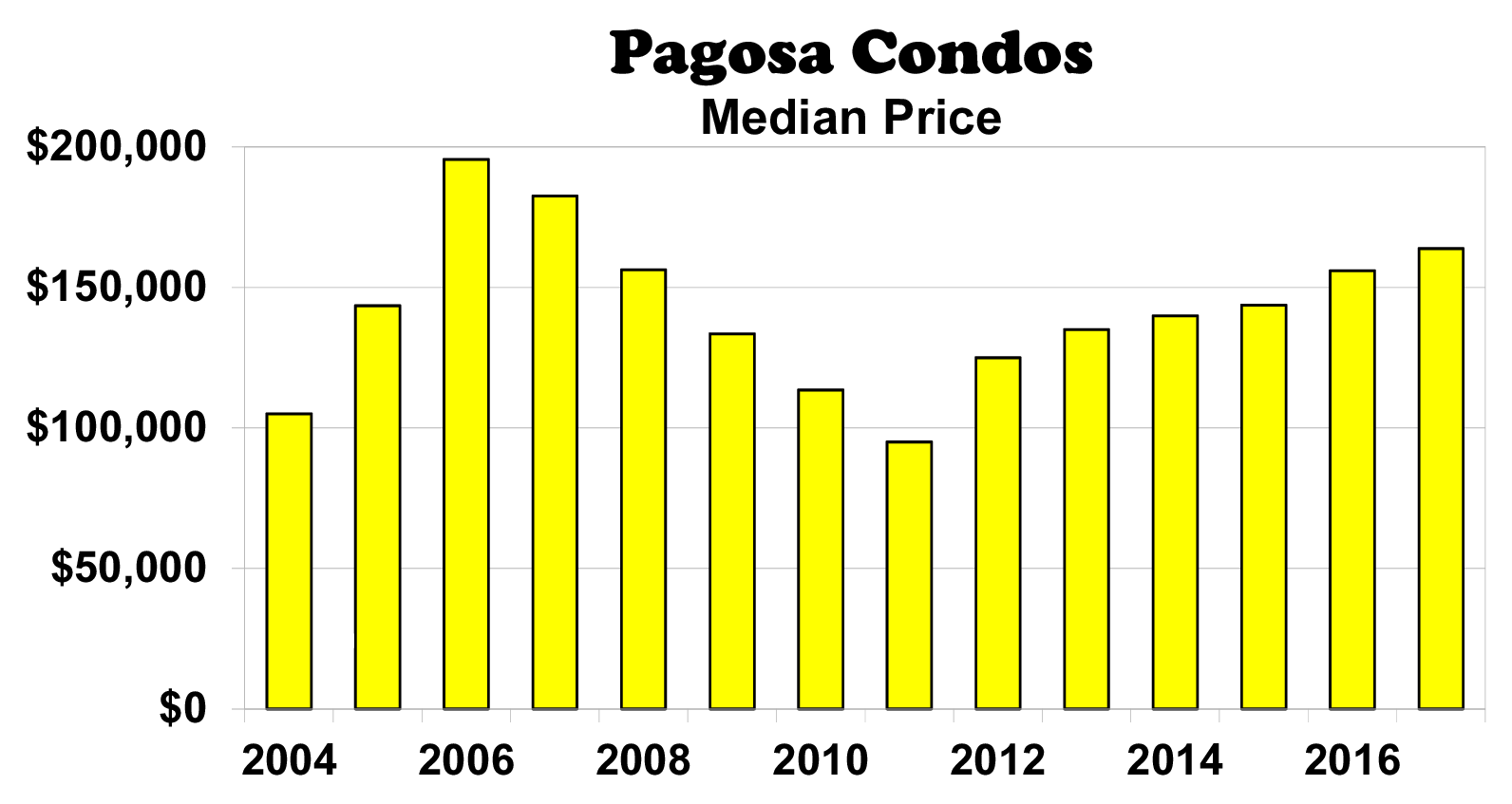 This chart represents all Pagosa condos, regardless of size.
My prediction for 2018 is more of the same. Prices should continue to rise. My best guess is residential home prices will rise 6%, and condo prices may be a little stronger due to lack of inventory. Land prices will continue to improve since they are still well below what they were in 2006.
Interest rates for a 30-year fixed-rate mortgage are currently at 4.1%. I predict they will rise to somewhere between 4.25% and 4.5%. I have been predicting these rates to rise for many years, and so far I've been wrong. I hope I'm wrong again.
So long for now! I hope you have a happy New Year. Good luck on your New Year's resolutions. Hopefully one will come true. Remember, today is the most important day of your life, so have fun and enjoy it!