Who Is Lee Riley?
Realtor of the Year 2001 and 2014 for Pagosa Springs area
Resident and businessman in Pagosa Springs since 1983
Owner of the Best Western Oak Ridge Restaurant: 1983-1989
Licensed Colorado Realtor® in Pagosa Springs since 1989
Director of the Pagosa Springs Chamber of Commerce: 1984-1986
Vice President of the Pagosa Springs Chamber of Commerce: 1986
Director of the Archuleta County Board of Realtors: 1989-1995
Founder of the Archuleta Think-Tank-on Wheels (an annual retreat for community leaders to "brainstorm" with other communities about problems & opportunities): 1986-1994
Participant in Pagosa Springs School Accountability program: 1990-1997
Instrumental in establishing the Archuleta Economic Development Association to promote local business and jobs
Created the Riley Family Scholarship for High School Seniors
Member of the Realtor's Land Institute since 2003
Graduate of Realtor Institute (GRI): 1995
Certified Residential Specialist (CRS): 1996
Lee Uses Creative Marketing Techniques!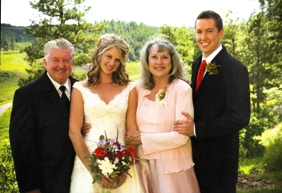 As a child in a military family, I have lived all over the world. I believe that Pagosa Springs is the ideal spot to live, work and raise a family. The beauty, seasons, and people make this area so special. I enjoy sitting on my deck watching the mountains change from purple to white, the leaves change from green to orange and the elk move through the valley. Anyone who has ever visited Pagosa knows that the people here give it a special feel – I love knowing my neighbors and seeing friendly waves as I drive through town. Pagosa is my dream town and I will never move!
My wife, Laurie, and I raised our two children in Pagosa, watching the town grow as they did. Both of our kids are grown now, with kids of their own. I am an extremely proud Grandpa to four beautiful grandchildren. I adore them all, but I don't get to spend nearly enough time with them.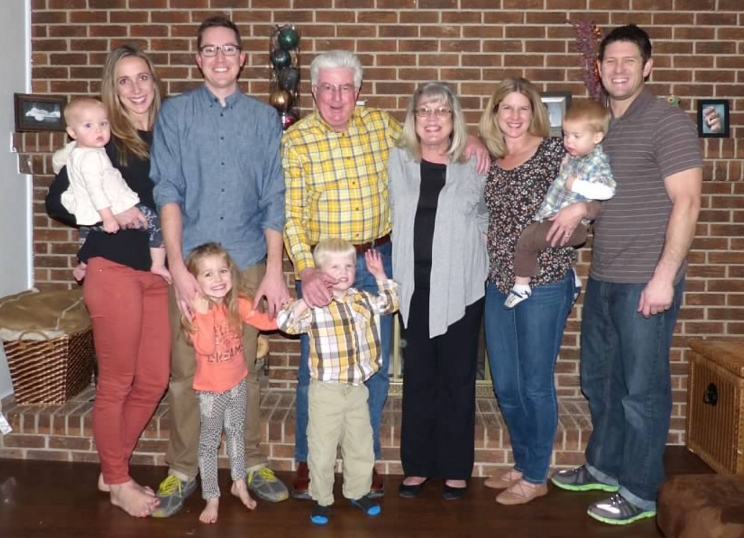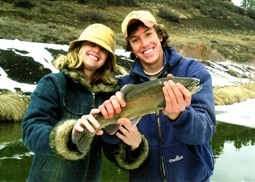 I have been lucky enough to have a fantastic career as a real estate consultant to thousands of people that have found our special town. I truly love my job and the people I work with! Since December of 2003 I have worked at Jann C. Pitcher Real Estate after spending many years with Jim Smith Realty. The change has allowed me to work at one of the most distinguished offices in the county. I also have a very special team working with me to keep the office (and me) in line! Jody and Joni can answer many of your questions when you call in, or will work with me to find out anything you need. My daughter, Heather, has also been helping me with my social media presence and keeping up with my past clients. You can now find me, and links to my listings, on Facebook and LinkedIn.
One of the reasons I have been so successful is because I am not afraid to show other agent's listings – I am extremely knowledgeable in all aspects of Pagosa Springs real estate, not just my own listings. My goal is to find your dream home or property, regardless of which Realtor has it listed! My team is a comprehensive one-stop-shop for anything you might need to know about our area real estate market. I have helped more families buy or sell Pagosa real estate than any other Realtor since 1989. Feel free to stop by and say hello next time you are in town!
Lee's Creative Marketing
It is no surprise that Lee Riley has been one of the most successful real estate consultants over the last decade—he consistently uses creative marketing to sell the properties listed with him. Nearly everyone in Pagosa Springs knows Lee's name from grocery carts, upside down newspaper ads, coloring books, catchy logos, charity events, scholarship programs, websites, magazines, postcards, talking houses, and the list goes on and on! Just like those famous ad slogans "Only you can prevent forest fires," "Good to the last drop," "Takes a licking and keeps on ticking," or "Snap! Crackle! and Pop!", Lee's "I Sell Pagosa" slogan is recognized throughout the County making him one of the best known Realtors in the area.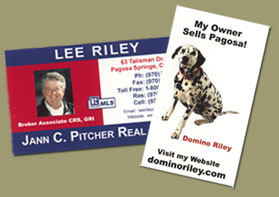 Lee prides himself on "thinking outside the box" to get your property marketed in a special way and getting it sold. He has created videos, CD presentations, magazine covers, and ads of all types to promote properties to Realtors all over the state and nation so that buyers anywhere have access to his listings. Lee's marketing sets him apart from all other Realtors in the area!
Ten Reasons To Use Lee Riley
Lee spends more money advertising your property than any single Realtor
in the county. The combination of full page ads in the Pagosa Sun,
numerous websites, and magazine ads will offer your property
maximum exposure.
He has helped more Pagosa families buy or sell Real Estate than
any other Realtor in the County since 1989.
Your property will be easily accessed on the internet via
several websites, including ISellPagosa.com, JannCPitcher.com, Zillow.com, and Realtor.com.
With his digital camera, pictures of your property/home can be emailed around the world within minutes.
Lee owns a 15-foot moving truck—Buy or List with Lee and Move for Free! (within 100 mile radius). He also lends it out to any church or non-profit at no charge.
He will help you arrive at a price that will enable you to get the most out of your property/home, keeping it on the market for the least amount of time possible.
He is easy and fun to work with and has a good sense of humor.
His team of Jody, Joni, Jarrett, and the Jann C. Pitcher Real Estate staff will work for you seven days a week.
He is continuously educating himself by keeping up to date taking the most recent Real Estate classes. He is a graduate of the Real Estate Institute (GRI) as well as a certified Residential Specialist (CRS), part of the top 4% of all Realtors in the country.
He is an early riser who starts showing property at sunrise—he always works hard and markets smart!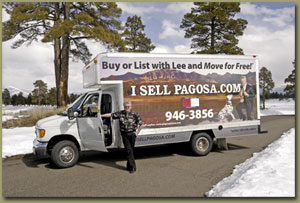 Lee's Mission Statement
Lee Riley will provide the best real estate service possible by providing knowledge, hard work, aggressive marketing and excellent service.
Lee's Goals
Always put the customer and client first
Be empathetic to client's and customer's wants, needs and dreams
Be fair and honest
Treat customers and clients as if they were part of the family
Continue to improve my knowledge of the real estate business in order to better serve my clients and customers.