A Little About Lee
---
Resident and businessman in Pagosa Springs since 1983

Owner of the Best Western Oak Ridge Restaurant: 1983-1989

Licensed Colorado Realtor® in Pagosa Springs since 1989

Director of the Pagosa Springs Chamber of Commerce: 1984-1986

Vice President of the Pagosa Springs Chamber of Commerce: 1986

Director of the Archuleta County Board of Realtors: 1989-1995

Founder of the Archuleta Think-Tank-on Wheels (an annual retreat for community leaders to "brainstorm" with other communities about problems & opportunities): 1986-1994

Participant in Pagosa Springs School Accountability program: 1990-1997

Instrumental in establishing the Archuleta Economic Development Association to promote local business and jobs

Created the Riley Family Scholarship for High School Seniors

Realtor of the Year 2001 and 2014 for Pagosa Springs area

Member of the Realtor's Land Institute since 2003

Graduate of Realtor Institute (GRI): 1995

Certified Residential Specialist (CRS): 1996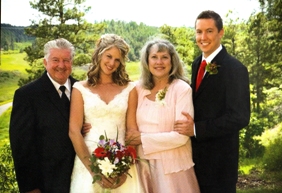 As a child in a military family, I have lived all over the world. I believe that Pagosa Springs is the ideal spot to live, work and raise a family. The beauty, seasons, and people make this area so special. I enjoy sitting on my deck watching the mountains change from purple to white, the leaves change from green to orange and the elk move through the valley. Anyone who has ever visited Pagosa knows that the people here give it a special feel - I love knowing my neighbors and seeing friendly waves as I drive through town. Pagosa is my dream town and I will never move!
My wife, Laurie, has been a special education teacher in Pagosa Springs since 1989. We have raised our two children, Patrick and Heather, in Pagosa and watched the town grow as they did. Both of our kids recently got married, and I am an extremely proud father-in-law. I have also been granted the name Grandpa (finally!) of two beautiful grandchildren, Gannon and Leighton. I adore them both but I don't get to spend nearly enough time with either one.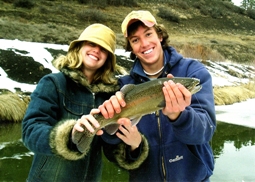 I have been lucky enough to have a fantastic career as a real estate consultant to thousands of people that have found our special town. I truly love my job and the people I work with! Since December of 2003 I have worked at Jann C. Pitcher Real Estate after spending many years with Jim Smith Realty. The change has allowed me to work at one of the most distinguished offices in the county. I also have a very special team working with me to keep the office (and me) in line! Jody and Jarrett can answer many of your questions when you call in, or will work with me to find out anything you need. My daughter, Heather, has also been helping me with my social media presence and keeping up with my past clients. You can now find me, and links to my listings, on Facebook and LinkedIn.
One of the reasons I have been so successful is because I am not afraid to show other agent's listings - I am extremely knowledgeable in all aspects of Pagosa Springs real estate, not just my own listings. My goal is to find your dream home or property, regardless of which Realtor has it listed! My team is a comprehensive one-stop-shop for anything you might need to know about our area real estate market. I have helped more families buy or sell Pagosa real estate than any other Realtor since 1989. Feel free to stop by and say hello next time you are in town!
CUSTOMER TESTIMONIAL
Did We Succeed With You? …
---
"I've bought and sold a fair amount of property over the past 35 years and worked with numerous Realtors in the process. By far, the recent sale of my land holdings south of Pagosa Springs has been my best real estate transaction experience. This sale was handled by Mr. Lee Riley of Jann C. Pitcher Real Estate. Lee guided me through all the steps, from property evaluation to final sales contract—without a single hitch. Within days after the property listing, I had multiple offers on the 60-acres parcel. Efficient, pleasant and easy to work with, instant and timely communication along the way, knowledgably to the finest detail, Lee has been "the professional" to work with."
Tom Katonak
---
"Lee's professionalism, straight-forward advice, community networking, sense of humor and, finally, skill in the sensitive negotiations at the time of closing were 'awesome.'"
Sherman Nichols MD
---
"Lee did a good job in publicizing the house on the Internet, in the newspaper, with other agents, etc."
Bob Moriss
---
"Lee's knowledge of the market was very important as we were still living in the Denver Metro area and could only make brief visits to Pagosa to look for homes."
Dan & Lori Williams
---
"One of the main reasons I decided to work with Lee is the efficiency level of the office was high."
Chris Bentley
---
"Lee I just wanted to let you know how much I appreciated your professional attitude and hard work in helping me to sell my house and to purchase my new house. You know the market well, and, more importantly, you listened to me when I told you what I wanted. Your understanding of the financing options available really helped to get the deal closed. I will call you again when I want to buy or sell another house."
John Steinert
---
"We want to thank you for the way you conducted business during the year-long search for the right parcel of land. We don't know of any other Realtors that would have made themselves available without prior notice to go out tramping the hills in pursuit of just the right property."
Ron and Carol Morris
---
"Thank you so much for helping us find our first home. We are so happy to finally own a home and appreciate your persistence and hard work helping us find just what we were looking for. Helping with the financial questions and pointing us in the right direction was a real blessing. Thanks again!"
Greg and Gina Dalrymple
---
"Lee Riley has been my real estate agent for two years. Helping me to sell a very hard to sell home in Aspen Springs, Colorado. Lee went way beyond to call of duty to sell this property while I was in Nashville, TN. Lee handled everything such as hiring contracts to do needed repairs, clean up the property, and he made numerous trips from Pagosa Springs to Aspen Springs. The advice he offered me was always sound. He is someone that I consider my friend for life. As much time as he spent, I don't know how he could have made any money on this deal, yet he stayed with me under very trying circumstances. My special thanks to Lee Riley."
Norman Wright