LEE'S CREATIVE MARKETING
---
It is no surprise that Lee Riley has been one of the most successful real estate consultants over the last decade—he consistently uses creative marketing to sell the properties listed with him. Nearly everyone in Pagosa Springs knows Lee's name from grocery carts, upside down newspaper ads, coloring books, catchy logos, charity events, scholarship programs, websites, magazines, postcards, talking houses, and the list goes on and on! Just like those famous ad slogans "Only you can prevent forest fires," "Good to the last drop," "Takes a licking and keeps on ticking," or "Snap! Crackle! and Pop!", Lee's slogan of "I Sell Pagosa" is recognized throughout the county making him one of the best known Realtors in the area.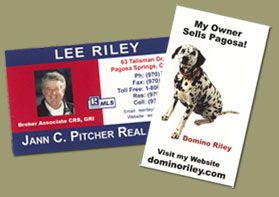 Lee prides himself on "thinking outside the box" to get your property marketed in a special way and getting it sold. He has created videos, CD presentations, magazine covers, and ads of all types to promote properties to Realtors all over the state and nation so that buyers anywhere have access to his listings. Lee's marketing sets him apart from all other Realtors in the area!
TEN REASONS TO USE LEE RILEY
1. Lee spends more money advertising your property than any single Realtor in the county. The combination of full page ads in the Pagosa Sun,
numerous websites, and magazine ads will offer your property
maximum exposure.
2. He has helped more Pagosa families buy or sell Real Estate than
any other Realtor in the county since 1989.
3. Your property will be easily accessed on the internet via several websites, including ISellPagosa.com, JannCPitcher.com, and Realtor.com.
4. With his digital camera, pictures of your property/home can be emailed around the world within minutes.
5. Lee has purchased a 15-foot moving truck—Buy or List with Lee and Move
for Free! (within 100 mile radius). He also lends it out to any church or charity group for free.
6. He will help you arrive at a price that will enable you to get the most out of your property/home, keeping it on the market for the least amount of time possible.
7. He is easy and fun to work with and has a good sense of humor.
8. His team of Jody, Jarrett, and the Jann C. Pitcher Real Estate staff will work for you seven days a week.
9. He is continuously educating himself as to the most recent Real Estate classes. He is a graduate of the Real Estate Institute (GRI). He also is a certified Residential Specialist (CRS), part of the top 4% of all Realtors in the country.
10. He is an early riser who starts showing property at sunrise—he always works hard and markets smart!
LEE'S MISSION STATEMENT
Lee Riley will provide the best real estate service possible by providing knowledge, hard work, aggressive marketing and excellent service.
GOALS
To always put the customer and client first.
To be empathetic to client's and customer's wants, needs and dreams.
To be fair and honest.
To treat customers and clients as if they were part of the family.
Lee will continue to improve his knowledge of the real estate business in order to better serve his clients and customers.